Payroll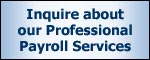 We are very pleased to inform you that our firm has now acquired the full capabilities needed to offer you the complete, professional and personalized payroll service you have been asking for.

Process your company payroll through our website:

1.Very simple to use.
2.Sends you e-mail reminders of paydays & payroll taxes due.
3.Prints out all new hire forms. (W-4, I-9)
4.We provide the support needed to assist you.

Our price will include quarterly federal and state returns, electronic tax deposits, direct deposit capability, annual returns and W-2s and there are no setup fees.

To get started

Please call our firm (631)544-6101 at your earliest convenience so we can analyze your needs and design a fully customized payroll service just for you.